Celebrities rally for financial support for popular sound engineer suffering from kidney problem
A lot of celebrities in Ghana are urgently rallying for financial assistance through their social media platforms to help popular sound engineer, Eyoh Soundboy who has been diagnosed with kidney problem.
Eyoh Soundboy who is a producer and signature name behind some hit songs in Ghana, not long ago shared a flyer which revealed his current predicament coupled with the cost of dialysis.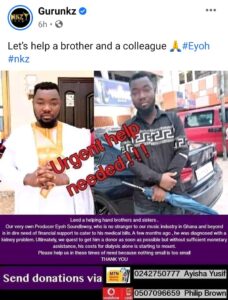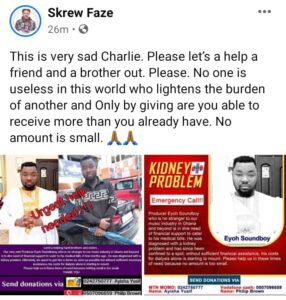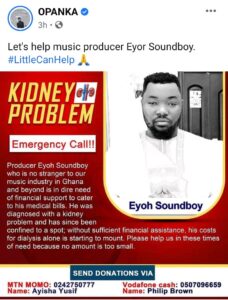 Popular showbiz personalities like Guru, Opanka, PossiGee, DDT, Skrew Faze have all called on individuals to contribute their widow's mite to help Eyoh Soundboy pay for the cost of his kidney dialysis.
Skrew Faze wrote on Facebook "This is very sad Charlie. Please let's help a friend and a brother out. Please.
"No one is useless in this world who lightens the burden of another.
"Only by giving are you able to receive more than you already have. No amount is small. 🙏🏾🙏🏾".
Last year, the multiple-talented Ghanaian music producer and songwriter, Eyoh Soundboy teamed up with Reggae Dancehall musicians, Kamelyeon and Epixode on his single debut titled 'Winner'.
Source: Amansan Krakye (kastlefmonline.com)