Counter press conferences: Mahama and NDC setting agenda, controlling narrative of political conversation – Political scientist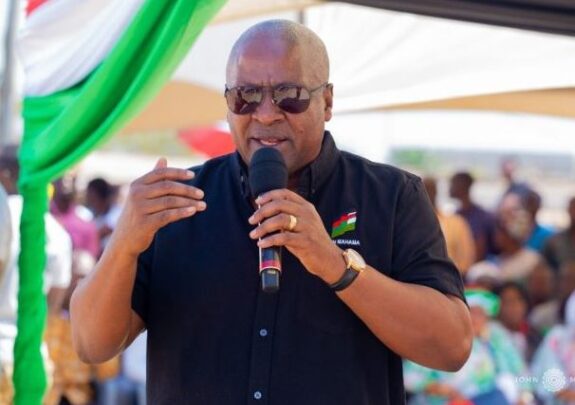 A senior lecturer at the Political Science Department of the University of Ghana has cast doubt on the effectiveness of the strategy adopted by the governing New Patriotic Party (NPP) to defuse allegations raised by the opposition National Democratic Congress (NDC).
Dr Seidu Alidu in an interview on Joy FM's Newsnight on Tuesday noted that the knee-jerk responses presented by the NPP through counter press conferences only give the opposition the upper hand.
According to him, it seems the 2020 NDC flagbearer, John Mahama and his party have cornered the NPP into a defensive position.
"When the former President (Mahama) makes a specific statement in a particular tour, you (NPP) are likely going to get two press conferences organised. And you will realise that majority of the communication team of government will be reacting to what the former President has said," he told host Evans Mensah.
In the past few weeks, each time the 2020 Presidential Candidate of the NDC, John Mahama has spoken on an issue, the NPP reacts immediately with a counter-press conference.
On Tuesday, the former President stated that the NDC will be very vigilant at the polling stations during the 2024 elections adding that "It will be a do or die affair".
Less than 12 hours after Mr Mahama had made this statement, the Deputy General Secretary of the NPP, Nana Obiri Boahen said the party will not be intimidated by the former President's 'do or die affair' comment.
According to him, not only does he find Mr Mahama's comment unfortunate but he believes the NDC cannot bully the NPP to win elections at the polling stations in 2024.
Earlier that day, the NPP had held a press conference to address Mr Mahama's assertion that President Akufo-Addo is hiding behind Covid-19 to overspend.
General Secretary of the party, John Boadu cautioned the 2020 NDC flagbearer to stop lying to Ghanaians about his record while in power, because "the facts show otherwise."
He further took a jibe at the former President saying "Mr Mahama is out of touch with post-Covid-19 governance."
Amidst the ongoing altercations, Dr Alidu believes that the NPP is only giving importance to the opposition and Mr Mahama through their frequent press conferences.
The Political Scientist also added that although the back and forth between the two major political parties in the country breeds transparency and accountability, it diverts the government's attention from very important projects.
"I think this favours the NDC more than it favours the NPP. In the sense that the NDC seems to be setting the policy agenda for the government to react to."
"It also gives prominence to the opposition leader because whatever he says is quickly reacted to and it shows that there is importance in whatever he is saying and that he is still relevant to our political policymaking process," he said.
Source: myjoyonline.com