'I was told to change from jeans into kente cloth' – Idris Elba talks about meeting Asantehene
British actor, Idris Elba has described his visit to the Manhyia Palace during his time in Ghana as fascinating. Speaking on The Late Show with Stephen Colbert, the actor said that he was surprised when he received an invite to visit Asantehene, who is a huge fan of his, while he was filming his documentary on gold
British actor, Idris Elba has described his visit to the Manhyia Palace during his time in Ghana as fascinating.
Speaking on The Late Show with Stephen Colbert, the actor said that he was surprised when he received an invite to visit Asantehene, who is a huge fan of his, while he was filming his documentary on gold.
He was invited to join Otumfuo Osei Tutu II at the first Akwasidae of the year 2023 – a first for him.
Idris Elba said "so I showed up in my jeans. They were like, no, 'you got to wear this kente cloth'. It was a really fascinating day. I mean, it was beautiful and the tradition was rich."
He noted that he was nervous when meeting the Otumfuo Osei Tutu II for the first time especially since he was not familiar with how to keep the Kente cloth stable.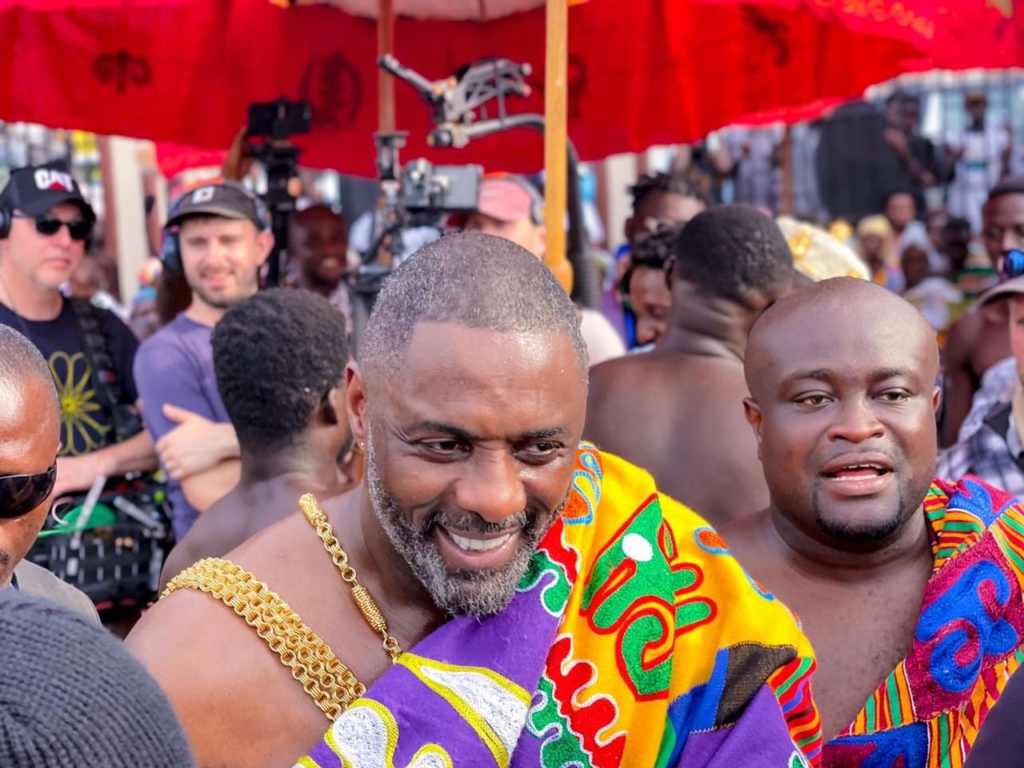 Idris Elba told Stephen Colbert that "so when you meet the king, typically what you have to drop the kente cloth shoulder down a little bit and then shake the King's hand. It's part of the tradition like a symbol of respect."
"This is the first time I'm wearing it and underneath, you just got your shorts on. And my thing kept unravelling. I was like, 'oh, man, I'm going to meet the king, and it's going to fall off me and be standing there in my boxers'."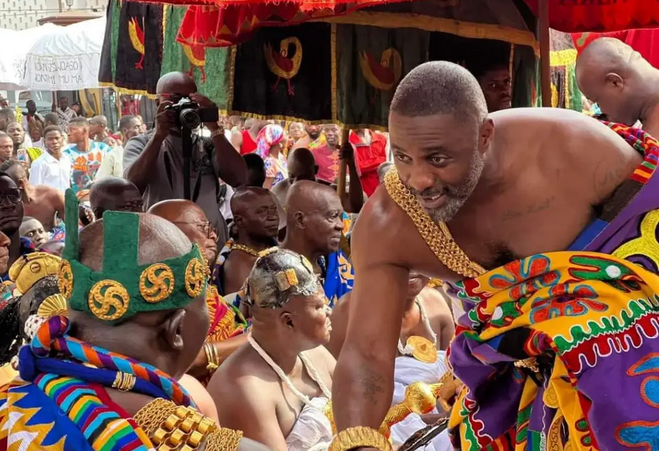 The Luther actor said he was glad to not have had any mishap occur adding "I did my thing gently. It was actually a really beautiful time. I don't mean to make fun of it. It was very beautiful."
Idris Elba was at Manhyia Palace on Sunday to pay homage to Asantehene Otumfuo Osei Tutu II and Asantehemaa Nana Konadu Yiadom III during the Akwasidea in February.