Law School Director must resign, GLC dissolved – Sosu demands as students protest exams saga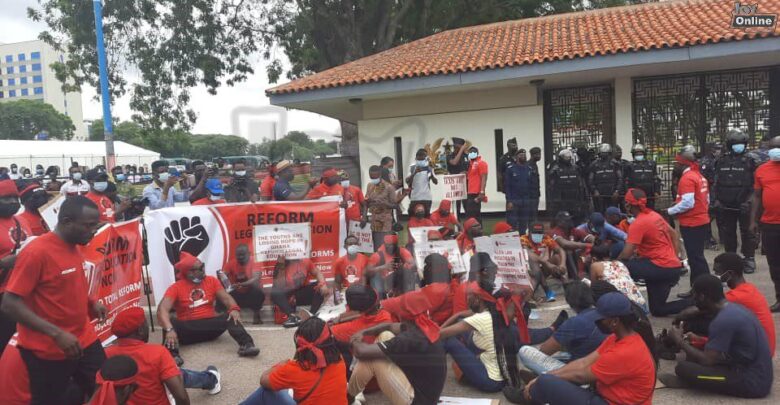 Ranking member on the Constitutional, Legal and Parliamentary Affairs Committee is calling for the resignation of the Director of the Ghana School of Law.
Francis-Xavier Sosu also wants the disbandment of the General Legal Council (GLC).
According to the Madina MP, who is unhappy about the turn of events in the country's legal education space, the Council has outlived its usefulness.
"As we speak now, the Director of the Law School must be resigning…It seems the General Legal Council, as is currently constituted, is made up of very old archaic mentality people whose goal is to maintain the status quo," he told JoyNews.
He believes this is the only way fresh leadership with progressive ideas can be attracted to solve the problems plaguing legal education in Ghana.
Mr Sosu made these comments when the National Association of Law Students (NALS) hit the streets of Accra to demonstrate over the Ghana School of Law entrance exams failures.
The aggrieved candidates are accusing the General Legal Council (GLC) of being responsible for their inability to gain admission following a new quota system.
The pass mark for the entrance exams has always been 50% in two sections, but for this year's exams, the rule has been changed, so candidates have to score at least 50% in both sections.
Clad in red and black attire on Wednesday, October 20, the students hoisted placards with inscriptions expressing their displeasure at the Black Star Square in Accra.
They made a stop at Parliament House, where they presented a petition to the Minority Leader, Haruna Iddrisu, who received it on behalf of the Speaker.
Speaking on the sidelines of this gesture, Francis Xavier-Sosu expressed his disgust for the circumstances leading to the protest.
He placed the blame at the doorstep of the GLC and the Ghana School of law.
Francis Xavier-Sosu insisted that the problems will persist if the law school's GLC Board and Director remain at post.
Meanwhile, the students are demanding that the Attorney General orders that GLC "within 7 days to present (a) procedures for re-marking of entrance exam scripts and (b) regulations specifying how qualified Law faculties can be designated for students to have tuition for the professional law course in accordance with Articles 23, 25 and 38 of the 1992 constitution and Sections 13(2) and 14 of Act 32."
They also demanded that the Ghana School of Law re-marking fee be reduced and pegged at GHC300 per paper.
Meanwhile, Minority Leader Haruna Iddrisu, after receiving the petition, called on President Akufo-Addo to establish a legal education review commission to evaluate the current regime to allow for more access.