Ghana Sports Authority Appreciates The Support of Hon. Dr. Minta Nyarku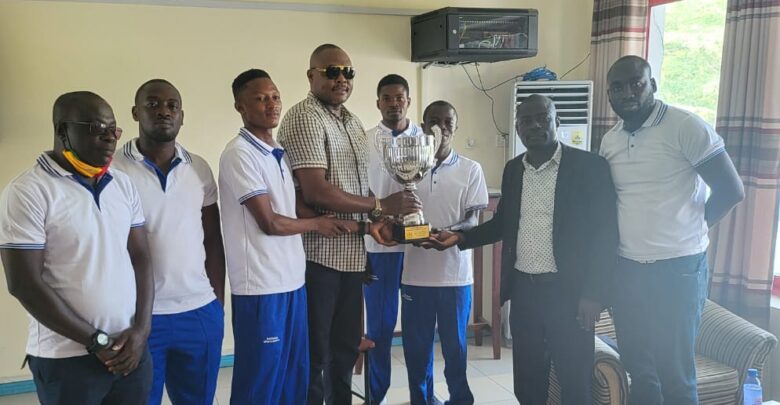 A delegation from the Ghana Sports Authority lead by Mr Alexander Teiku, have presented a trophy they won in a marathon competition held at Akyem Oda to the Cape Coast North Member of Parliament.
READ MORE: I'm getting a lot more shows than I was doing before – Camidoh honestly reveals why
At a short ceremony held at the University of Cape Coast Club House, Monday, 28th February 2022, some Sports Authority officials presented the trophy they won to Dr. Kwamena Minta Nyarku affectionately called Ragga.
In presenting the trophy, Mr. Teiku who lead the delegation thanked the MP for Cape Coast North for the kind gesture he accorded them in their time of need.
"We had sent letters to a lot of individuals and organisations seeking sponsorship. None responded positively except you and but for that we couldn't have participated in the competition let alone winning".
According to him, they came to present the trophy they won in the marathon competition held at Akim Oda". This is to prove to you that we value your support and without it, we couldn't have participated and we say God bless you abundantly".
This event has come about because some time ago some officials from the Sports Authority wrote to the Member of Parliament for Cape Coast North seeking assistance to enable them to participate in a marathon competition.
As a sports enthusiast, Dr. Nyarku generously supported them financially in order to compete to win. The Cape Coast North MP plays football, squash, badminton, volleyball, hockey, and swims awesomely. As a student, he threw discus, javelin, and shot putt as well.  "I love sports and felt obliged to assist you to make Cape Coast proud".
The Cape Coast North Member of Parliament on his part thanked the delegation for the honour done him.
"I'm very grateful for such an honour done to me and very excited that my contribution made your win possible. Kudos to the entire team, and William Amponsah, Mohammed Azziz, and Afful Basit for emerging winners and making Central Region the winners for the ended competition".
"I thank you for coming to present to me the trophy and also pray and hope that in future we can collaborate some more in other sports disciplines and project Cape Coast and the Central Region in Ghana and beyond".
According to him, this must alert all within the sports fraternity and to government especially, "To as a matter of urgency begin to provide more resources in support of other sporting activities and stop the over-concentration on football which has not achieved much for the nation. The change towards others sports discipline is now" he ended.
Source: DC KWAME KWAKYE