WE WILL NO MORE TOLERATE INDISCIPLINE IN CAPE COAST- OGUAA TRADITIONAL COUNCIL WARNS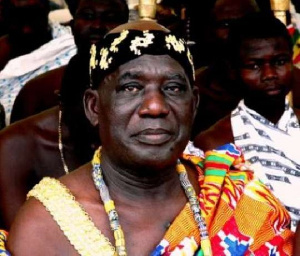 The Oguaa traditional council led by Omanhen of Oguaa traditional area Osabarima Kwesi Atta II to at Amintimadze palace held a stakeholder consultation on the recent indiscipline within Cape Coast and its environs. Amongst issues that were addressed were non-adherence to covid-19 safety protocols, security issues, unemployment, the influx of 'pragia' in the metropolis among other things.
Osaberema Kwesi Atta II indicated that over the past few months the people in the Cape Coast Metropolis have resorted to ignoring the dangers of covid-19 hence not wearing the nose mask even at funerals and other public events which he said is a great concern to the traditional council, revealing that even some people have fall victim to the virus.
He, therefore, called on the good people of cape coast to take seriously the protocols into concern. Touching on the 'pragia' operations in the traditional area, Osaberima Kwesi Atta noted that, it is causing major security concerns because of non-adherence to road safety regulations by the 'pragia' riders thereby causing road accidents. he also noted that apart from not adhering to the road safety regulations some of the riders even use it to commit various crimes by snatching people's bags, mobile phones and using them on the way when they are not supposed to use them.
Osaberima Kwesi Atta further indicated boys as young as 15 years instead of being in school have resorted to 'pragia' business which to him, the laws in our land do not permit that and therefore called on the authorities to make drastic decisions on that to forestall future danger.
On employment, Osaberima Kwesi Atta II expressed his disappointment in the successive government for not creating jobs for the teaming unemployed youth in the Cape Coast as well as the region as a whole. he said due to that a lot of the youth have resorted to all forms of illegal activities like weed-smoking, rubbing, and among others which he said something should be done about it.
He also noted that when it comes to teenage pregnancy, it is taking ascendancy in the region which should be a matter of concern to all. Some of the dignitaries who were at the stakeholders' forum were the member of parliament for Cape Coast South, Hon Kweku Rickett Hagan, MP for cape coast north Hon. Dr. Kwamena Minta Nyarkoh, Mr. Sephas Arthur, cape coast metro police commander, a delegate from the social welfare department among others.
Source: Richard Acquah (kastlefmonline.com)